Trustwave App Scanner Family

Detect web vulnerabilities to quickly fix or block them
Trustwave Products
Trustwave App Scanner Family
Trustwave App Scanner Managed
Contact us for pricing!
Trustwave App Scanner Cloud
Contact us for pricing!
Trustwave App Scanner Enterprise
Contact us for pricing!
You have to measure risk to manage risk. Today's fastest-growing risk category is web application vulnerabilities. Analysts have estimated 75 percent of attacks now target the application layer, exploiting more than 6,000 known vulnerabilities. How will you find your application vulnerabilities and remediate them before the criminals do?
With our highly accurate App Scanner solutions, you can automatically detect web vulnerabilities, prioritize them and use best-practice advice to quickly fix or block them. The App Scanner line also offers the widest range of form factors and depths of scan to best meet your security and business needs.
Overview:
Protect all of your web and mobile applications with comprehensive vulnerability testing from Trustwave App Scanner's family of solutions.
Patented behavior-based scanning technology provides the most accurate vulnerability detection for fast, efficient results. With up to 128 categories, App Scanner products offer the highest application vulnerability detection rates in the industry. Best-practice remediation advice further speeds resolution. Our proprietary HARM™ scores quantify application risk, allowing your team to prioritize and reduce the greatest threats first, for optimal security.
Trustwave App Scanner products let you test and monitor all of your applications in whatever way is right for you.

Short On Time or App Expertise?
Let our experts run the scans for you and provide you with validated results.

Contending with Mobile Apps?
App Scanner Mobile service can help.

Challenged by Budget?
Use our on-demand scanning platform at whatever depth of scan makes sense for your app and business needs.
Need a Little of Everything?
Only App Scanner offers a Hybrid software and managed service offering that stores all your results in one database and dashboard.

Big Teams or Many Apps?
App Scanner Enterprise gives you centralized visibility and control to scan unlimited apps for one price.

Testing for Mission-Critical Apps
Trustwave SpiderLabs delivers industry-leading penetration testing too.
How It Works:
Trustwave App Scanner automates the process of finding security vulnerabilities in web applications and services. Its patented Hailstorm™ scanning engine contains an emulated browser, which traverses applications just as a user would. Hailstorm conducts mock "attacks" designed to reveal whether particular vulnerabilities could be exploited by criminal hackers.
Hailstorm looks at actual behavior, as opposed to code strings, so it is accurate with very low false positives. Hailstorm can detect more than 128 categories of vulnerabilities in web applications, web services and cloud and mobile applications.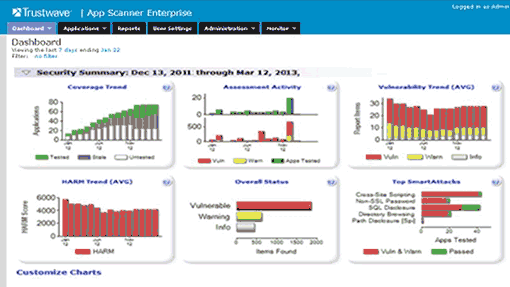 App Scanner Enterprise Dashboard