Trustwave Web Content Monitoring

Help you monitor online merchant activity, and allow you to take appropriate and timely action to address and resolve questionable content
Trustwave Products
Trustwave Web Content Monitoring
Trustwave Web Content Monitoring
Contact us for pricing!
For acquiring banks, credit card processors and independent sales organizations that offer merchant services, offensive and illegal content on one of your retailers' websites can negatively impact your brand and your business. Trustwave Web Content Monitoring (WCM) helps payments industry leaders monitor online merchant activity, and take action to head off nefarious activity and threats to the business.
Overview: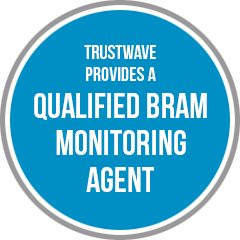 An automated content monitoring solution that helps ensure compliance with regulatory, industry and proprietary mandates, Trustwave WCM supports specific standards, such as Visa's Global Brand Protection (GBP) and MasterCard's Business Risk and Mitigation (BRAM) program.
Delivered in TrustKeeper, and utilizing our proprietary automated scanning engine and multi-tier workflow, Trustwave WCM consists of Card Brand Monitoring and Merchant Risk Review. It detects, scans, inventories and analyzes website content, in a fraction of the time required to perform the same function manually. If a finding is identified, then a Trustwave senior analyst will conduct a real-time review and quickly report back to the client.
Trustwave has close ties with law enforcement and investigative agencies, and our processes work within commonly used computer forensic frameworks. WCM is under an ongoing adaptive release cycle to monitor ever-changing illegal, unethical and fraudulent practices taking place online.
Features:
It has become necessary to identify and mitigate risk at each step of a relationship with a merchant that is processing credit cards. WCM's primary goal is to ensure that merchants are selling the goods they say they are – and to ensure e-commerce sites have the right foundation of data security practices in place. WCM's features include:
| Offering | Card Brand Monitoring (Monthly) | Merchant Risk Review (Monthly/Quarterly) |
| --- | --- | --- |
| WCM Portal Access | | |
| MasterCard Reporting | | |
| Card Brand Violation Detection | | |
| Sponsor Hierarchy | | |
| Boarding Scan | | |
| Merchant Score Card | | |
| Country Risk | | |
| Website Additional Information | | |
| Custom Terms of Service Validation | | |
| Bulk Boarding Scans | | |
| Secure Checkout Validation | | |
| Malware Detection | | |
| WHOIS And IP Analysis | | |
How It Works:
For our customers that manage hundreds of thousands of e-commerce URLs, WCM simplifies the complexity of real-time monitoring and reporting, especially to meet the needs of standard card brand reporting. These "Sponsor Users" are often in charge of daily monitoring of e-commerce populations. The real-time access to WCM's sponsor dashboard provides customers an easy snapshot, and facilitates the management and ongoing reporting needs.
Card Brand Monitoring
The basic service level for WCM is Card Brand Monitoring, which provides automated analysis of e-commerce websites to help customers track large merchant populations and meet card brand compliance requirements. The user simply loads their known list of e-commerce URLs, and is provided with the standard content categories critical to risk management and brand protection programs (such as tobacco, firearms, pharmaceuticals, etc.). Depending on the organization's own risk thresholds and terms of service, customers can create custom terms for their program.
Once scanned, the list of sites is analyzed with a multi-tiered process, including analyst reviews and escalation (if card brand violations are found). In addition to monitoring for illegal activity, WCM gathers additional information that can be used during merchant boarding and persistent monitoring.
The boarding process is a critical time to complete a risk evaluation on potential customers. This includes information gathering, and background and credit checks. It's also the right time to validate the merchant's website with a scan to ensure that they are not already involved in selling any illegal goods or services. WCM features a user-friendly scanning dashboard, which facilitates a light boarding scan for any new potential merchant.
The WCM portal allows for flexibility in real-time reporting and monitoring. The sponsor hierarchy helps organize a global view for organizations that have multiple stakeholder groups. This provides the administrators of the program with a single view into the overall merchant risk of their company.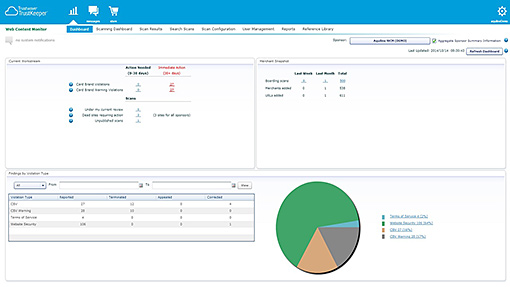 Sponsor users get an easy-to-read dashboard with critical management elements available for immediate analysis.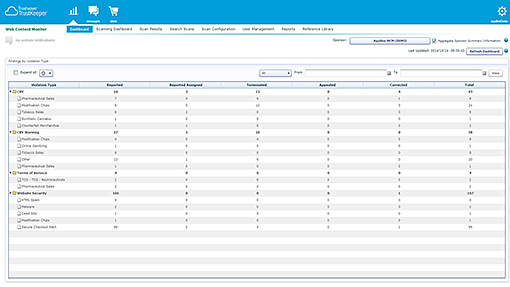 Sponsor users can drill into violations based on their risk priorities.
Merchant Risk Review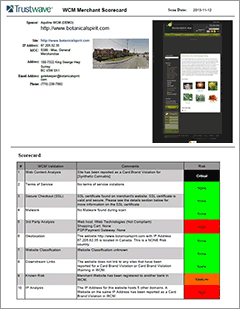 The Merchant Risk Review bundle is an advanced merchant risk mitigation solution. This tier includes all card brand monitoring functionality as a standard feature, but adds on real-time risk checks for boarding new merchants into a portfolio. The merchant risk review includes bulk boarding scans for new account additions, including SSL validation and malware detection, powered by the Trustwave Secure Web Gateway.
Users benefit from an in-depth merchant scorecard to help augment underwriting efforts and ensure only those merchants conducting commerce in a secure and ethical manner are signed in to the portfolio.
Customers that combine WCM with the TrustKeeper PCI Manager merchant compliance program find great benefits for their portfolio's risk mitigation objectives. Together, a WCM and PCI Manager program secures the merchant lifecycle – including reducing risk at boarding, ensuring the right data security approach is in place and moving merchants toward PCI compliance.
The merchant scorecard provides an overview of the risk state for the e-commerce URL being monitored.
Other Services
Trustwave Web Content Monitoring delivers beneficial add-on services, including:

Automatic Third-Party Detection
Monthly service for parties such as ISP/web hosts, shopping carts and payment service providers.

Manual Third-Party Detection
A Trustwave auditor reviews the website manually to attempt to identify the service providers being used by the merchant.

Merchant Discovery
Trustwave will make our best effort - with the help of business contact information that the customer may be able to provide - to identify the domain names of merchants.