PCI for Acquirers and ISOs

Merchant Compliance Programs Simplified
Trustwave Solutions
Trustwave PCI Compliance
Trustwave Acquirers and ISOs
Contact us for pricing!
For acquiring banks and independent sales organizations (ISOs) around the world, Trustwave helps our partners manage risk and compliance among global merchant portfolios of all sizes. With TrustKeeper® PCI Manager as the cornerstone, we run some of the largest Level 4 merchant programs in the world. Through our acquiring bank and ISO partners, Trustwave provides PCI DSS compliance validation and information security solutions to hundreds of thousands of merchants.
Overview: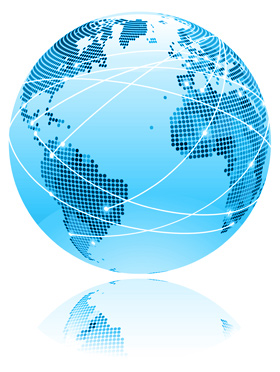 Our global partners have one goal in mind – to reduce the risk of data breaches at merchant locations and to ward off theft and fraud. Helping millions of small businesses protect their data and become PCI compliant is no small task.
Our "Alliance Partners" are acquiring banks, ISOs, credit card processors, and brand owners around the world that have a merchant services portfolio, or distributed business model that requires a large-scale approach to bring many entities into a secure and compliant state. This approach ensures that your merchant compliance program is planned, configured and managed strategically. As an extension of your compliance and marketing teams, we customize your communication and adoption execution and drive some of the highest compliance rates in the industry.
Trustwave is known for our proven program management process. Our Alliance Partners have access to dedicated PCI experts, including QSAs, project managers and marketing, operations, product and engineering specialists. This level of dedication and expertise is what differentiates Trustwave from our competitors.
Benefits:
Reduce Complexity
Our TrustKeeper PCI Manager simplifies the process for merchants to get started with PCI compliance. The PCI Wizard guides businesses through just the steps that are right for their business type, ridding unnecessary complexity from the process. As the user progresses, PCI Manager's To-Do List tracks the gaps and vulnerabilities found, providing an easy-to-action list of security fixes needed for compliance.

One-Stop Security Enablement
Delivered by TrustKeeper, PCI Manager provides bundled value in a single solution. Your users will have access to Vulnerability Scanning to monitor external IP addresses and the TrustKeeper Agent to facilitate scanning and monitor workstations on which it is installed for prohibited data and ongoing compliance tasks. And to help head off the biggest threat to small business security - insider negligence - a set of Security Awareness Education courses is provided within PCI Manager, for various roles and business types.

Expert Guidance
As a Trustwave partner, you'll have access to Trustwave experts on demand. With more QSAs on staff than any other PCI assessor, we're here to help solve your toughest security and compliance challenges. Research and insight is available from SpiderLabs, our elite team of security researchers. Plus, a day-to-day program management team is there to support you through each phase of your program.

Make Compliance Business as Usual
Trustwave is dedicated to helping your merchant compliance program hit key objectives and ultimately becomes seamlessly integrated business process to help secure your merchant portfolio for the long-term. Our proven communication strategy and rollout guide a successful launch and supports ongoing education and communication to your merchants to help maintain.

On-Demand Support
Between your dedicated program team, and the Trustwave global 24x7x365 support staff, access to trusted security professionals and PCI experts is always at your fingertips.
How It Works:
Trustwave helps our partners manage the risk of large and diverse small merchant populations so these merchants can achieve security and compliance with industry and regulatory standards. The configuration of a merchant program is flexible so it can be integrated with our customers' go-to-market strategies. This customization – which includes risk-based outreach, portal co-branding and messaging, data feeds for boarding and reporting, single-sign-on capabilities and custom virtual private communities – all work together for success. This means not only high activation and compliance rates, but also a positive impact on partners' brand equity.
PCI Manager Sponsor View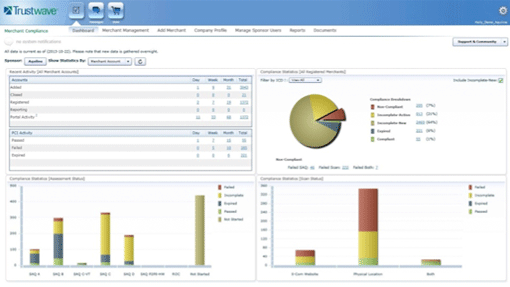 The PCI Manager Sponsor View is an aggregate snapshot of the merchant compliance program, providing information on merchant milestones, such as progress made toward the program's objectives and compliance status by merchant type.
Real-time advanced reporting features help acquirers and ISOs maintain a watchful eye on the progress being made by their merchant populations toward program enrollment, and monitor ongoing compliance achievement levels.
Your Dedicated Team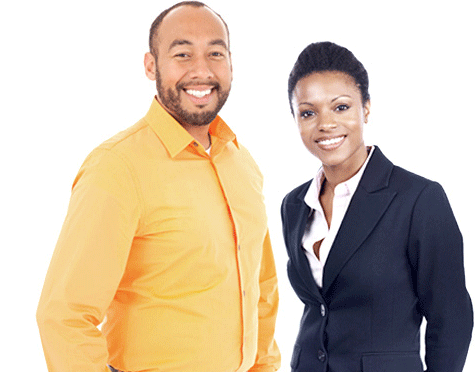 To get started, partners are assigned a program and alliance manager to guide the program's kick-off. These resources stay dedicated to the account throughout its lifecycle. From here, the team of product managers, engineers, marketers, and support and operations experts are assembled to focus on four distinct areas - portal configuration, training, support/operations and marketing.
Dedicated project managers work closely with our partners to ensure all aspects of the merchant compliance programs are cared for.
Program Rollout
Preparing for launch is a key step in the process. Our partners are able to manage PCI compliance for complex merchant populations with TrustKeeper PCI Manager, a simplified, automated PCI Compliance management tool that is delivered securely in the cloud.
Once the program configuration and rollout activities are underway, we work with partners to customize communications and to adjust and brand automation to meet the program's objectives.
We'll help you set up your automated data feed, an automated boarding and reporting data exchange between a sponsor's systems and TrustKeeper. Easily add, drop or change merchants from your program.
Easy Enrollment for Merchants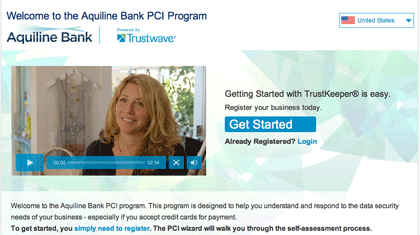 The initial registration process guides merchants into the compliance process with simple and understandable questions to minimize the complex language of the self-assessment process.
Key features of PCI Manager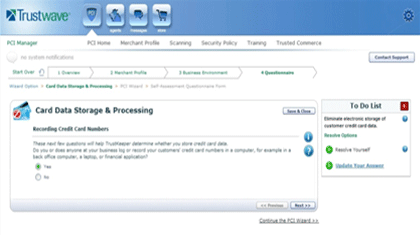 The Trustwave intelligent PCI Wizard simplifies the process, walking the merchant step by step through the process for certifying PCI compliance. The To Do List clearly and simply tracks the areas that need action and accelerates a merchant's time to compliance.
Manage Your Compliance Status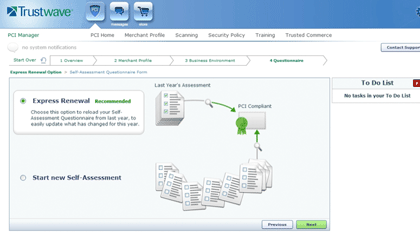 As tasks are identified in the To-Do List, Trustwave solutions are available within PCI Manager to help close security gaps. The Trustwave process puts security first, which helps to ensure cardholder data is protected and allows compliance to be a much-simplified task.
And when it comes to annual renewals, the process is easy with the PCI Manager Express Renewal, which helps merchants easily make updates where necessary and update their certification in a fraction of the time.
Education, Training and Marketing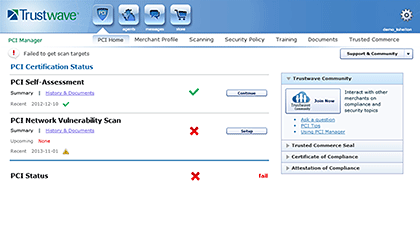 With both standard online education offers in PCI Manager, and custom training and education sessions, Trustwave will help you tackle the biggest hurdle to compliance - awareness.
Coupled with the ability to customize the program Welcome page and the portal set-up, you'll have help from Trustwave to get to the right engagement and response from your merchant base. Customized marketing automation builds on our tried-and-true outreach that follows the merchants' behavior through the PCI lifecycle. You'll be able to easily keep tabs on merchant response statistics within TrustKeeper PCI Manager.
ECommerce Risk Management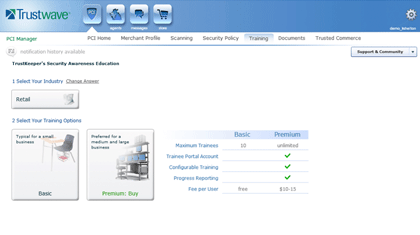 Monitor in real time e-commerce business activity and illegal categories to meet card brand requirements for Visa and MasterCard. (Trustwave is now a BRAM qualified monitoring agent). Our Web Content Monitoring suite includes Card Brand Monitoring to help ensure merchants are in compliance with card brand compliance for e-commerce acceptance, as well as merchant risk reviews to provide a layer of data security checks upon merchant boarding. Learn more about WCM here.
Reporting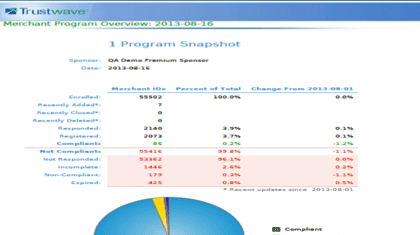 Every merchant compliance program is supported by powerful ad reporting tool that allow sponsors to slice and dice the population using criteria such as internal risk objectives, merchant processing types, and risk parameters. Also included are industry standard reports for Visa and MasterCard to facilitate ongoing data needs for the card brands.
To enable our partners to stay dialed in on their programs, the Trustwave Merchant Progress Overview Report helps keep tabs on the program's aggregate progress, including engagement, compliance, SAQ status and top gaps that merchants are experiencing, such as the common reasons for failure of the SAQ and scans.