PCI for Small/Midsized Business
Trustwave Solutions
Trustwave PCI Compliance
Trustwave small & medium business
Contact us for pricing!
No matter your size, you're required to properly handle credit and debit data and ensure it is not stolen and used for theft and fraud. The PCI DSS process is designed to help you self-assess your business to discover weaknesses that might expose this confidential information to criminals. Trustwave helps you secure this data, in all its forms and locations, so you can get concentrate on what matters – running your business.
Overview:
Our TrustKeeper® PCI Manager is designed with SMBs in mind. We understand that you may not have a dedicated IT staff and that the Payment Card Industry Data Security Standard (PCI DSS) may be new to you. We're here to help. PCI Manager will guide you through the process, provide information and resources so you can get secure.
Trustwave is the industry leader in PCI compliance for small businesses. We create security programs that help businesses become PCI compliant. We're here to help you navigate the standard and meet the expectations of your program sponsor (such as your acquiring bank or processor) and the card brands (Visa, MasterCard, American Express and Discover), as quickly and efficiently as possible.
For small and mid-sized businesses, we offer:
Industry-leading TrustKeeper® PCI Manager portal
A wizard-based, simplified process
Network vulnerability scanning built to detect more than 6,000 vulnerabilities
Unique To Do List capability to track areas of deficiency
Easy-to-implement solutions to fill security gaps
Benefits:

Compliance Simplified
PCI Manager makes it easy to become secure and compliant, with simplified enrollment and round-the-clock support, along the way. Through a task list tailored to your specific business environment, the PCI Wizard ensures that complexities are removed to help you achieve compliance quickly.

Help from Trusted Peers
The tool integrates Security Awareness Training, context-sensitive help, online chat and assistance from support analysts who are just a call or email away. You also have access to the support of the Trustwave Community right from your dashboard - an online social network where you'll be able to interact with other businesses like yours and ask questions of experts in data security and merchant processing.

An Easy Process
The PCI Wizard will walk your business through the PCI self-assessment process, step-by-step. You can start or stop at any time, and remediate along the way. The dashboard within PCI Manager helps you track your progress and enables you to move through the requirements in the way that is relevant to your business.

Ongoing Health Checks
Tools delivered through the TrustKeeper Agent, such as track data detection and primary account number (PAN) scanning, provide ongoing monitoring of the compliance status of the workstations that the agent is installed upon.

Long-Term Management
Your business is required to maintain PCI compliance on an ongoing basis. PCI Manager helps facilitate this for your self-assessment process. Our express annual renewal reduces the time it takes to validate compliance each year by more than half. Our friendly, automated reminders and dashboard visual cues ensure you're on track to stay secure - and compliant in the eyes of your bank or your program sponsor.

Scalable Security at Your Fingertips
Compliance is not a point-in-time snapshot, but rather a continuous process. As security gaps are uncovered, PCI Manager will help identify the right-size security products and services to help your business lock down its data. With tools like File Integrity Monitoring and Windows Log Monitoring within the TrustKeeper Agent, we enable security for your compliance checkpoints - and every day in between.
How It Works:
Trustwave helps our partners manage the risk of large and diverse small merchant populations so these merchants can achieve security and compliance with industry and regulatory standards. The configuration of a merchant program is flexible so it can be integrated with our customers' go-to-market strategies. This customization – which includes risk-based outreach, portal co-branding and messaging, data feeds for boarding and reporting, single-sign-on capabilities and custom virtual private communities – all work together for success. This means not only high activation and compliance rates, but also a positive impact on partners' brand equity.
It's Easy to Get Started
Getting started with PCI Manager is easy. You may have already been enrolled by your acquiring bank or credit card processor. Simply visit the "Getting Started" page for your program and click "Get Started," and you'll be guided through basic questions about your business and your credit card acceptance practices.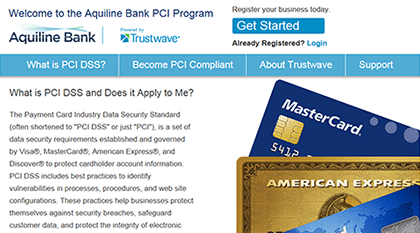 Choose the PCI Wizard
The PCI Wizard will help you self-assess your business, while matching your answers behind the scenes to the official PCI Self-Assessment Questionnaire. If you have a more complex business and require Network Vulnerability Scanning, you'll be guided to set this up as needed.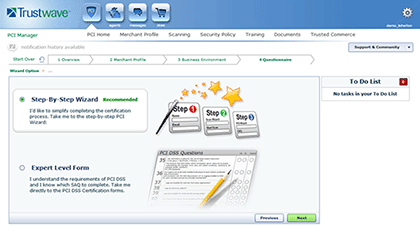 The To-Do List
The To-Do List will track areas of weakness and security gaps as your progress, providing a checklist of action items to easily fill these gaps. You can start and stop the process at any time.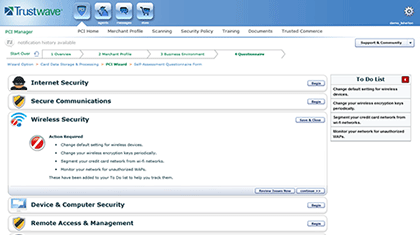 Manage Your Compliance Status
The TrustKeeper PCI Manager dashboard makes it easy to manage your compliance progress with at-a-glance status each time you log in. You can easily access your SAQ results, your scanning results, and ensure your SAQ is completed and signed annually.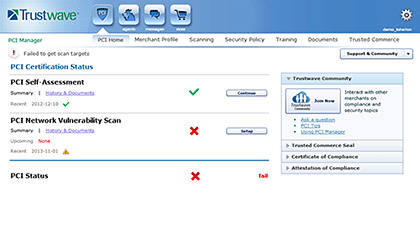 Become and Stay Compliant
PCI Manager will facilitate reporting your compliance status back to your acquiring bank or program sponsor. For your business, you can download progress reports and a Certificate of Compliance. If you're an e-commerce business, you'll be able to add a Trusted Commerce seal to your business website.