Trustwave Vulnerability Management Services

Proactive scanning, testing and remediation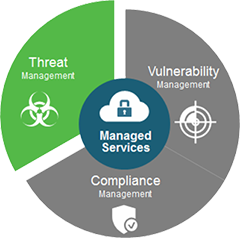 114 days
median number of days from intrusion to containment of data breaches.
71%
of data breach victims don't detect compromises on their own.
1 out of 3
IT pros that don't have resources to effectively use their security technologies.
Overview:
With Trustwave Threat Management services, you can more effectively prevent advanced and targeted threats designed to steal your business, customer and payment card data, while being prepared should security incidents or data breaches occur. Our holistic approach to threat management gives you more operational insight, faster detection, real-time protection and better mitigation strategies.
And because our threat management is delivered through industry-leading managed security services, you can worry less about product complexity, resource constraints, and in-house security skills shortages—so you can focus on your core business objectives.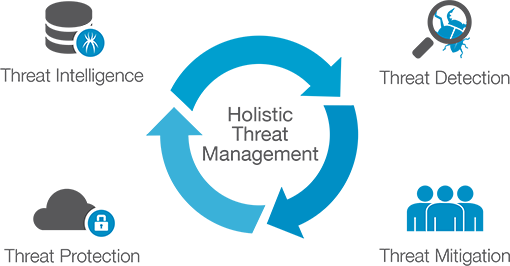 Trustwave Vulnerability Management services help:
Remove blind spots and improve visibility through threat analysis and security analytics
Provide actionable insight based on unique threat intelligence
Protect businesses from emerging threats through advanced correlation engines
Prevent security incidents, yet ready your business to respond if necessary
Alleviate the pressures of product complexity, resource constraints and security skills shortages
Benefits:
Threat Intelligence
Threat intelligence can no longer be simply a large collection of raw data. Trustwave's threat intelligence, using proprietary SpiderLabs research, is based on a unique combination of product telemetry, global data feeds and exclusive findings from our breach and forensics research. This unparalleled combination of data and real-world findings gives Trustwave the most thorough view of global threat intelligence. Trustwave services and technologies use this threat intelligence as the foundation for protecting against all known and emerging threats.
Threat Detection
As threats become more complex and advanced, real-time threat detection (and notification) becomes increasingly important. Advanced big data correlation of Trustwave threat intelligence, plus expert analysis in our Security Operations Centers, allows Trustwave to block new and emerging threats sooner and with more accuracy. As most cybercrime is focused on exfiltrating data, the earlier the detection the greater the chance of stopping the attack before data loss occurs.
Threat Protection
Even known threats continue to plague organizations as the layered defense strategy has grown overly complex and difficult to maintain. Trustwave Threat Management services work together to provide holistic protection of networks, applications, databases and endpoints. Our patented real-time code analysis, file content inspection, page correlation and gateway technologies, can accurately and quickly block malware, zero-days and advanced persistent threats in real-time. This holistic approach virtually eliminates the inaccuracies and gaps lefts by stringing together a myriad of individual point solutions.
Threat Mitigation
Mitigation starts with awareness, yet security personnel are bombarded with event notifications and quickly overwhelmed. Proactive event monitoring and threat correlation creates actions out of the noise, resulting in faster response and threat mitigation. And yet, security incidents and breaches can happen despite all best efforts for prevention. From the security specialists in our Security Operations Centers to our SpiderLabs forensic investigators, you have experts in your corner to help you prepare for and respond to incidents.
Our Services:
Vulnerability Management Services
Additional Managed Services